Course details
All-you-can-drink 2.5-hour all-you-can-drink all-you-can-eat menu! All 11 items 【Gong) course 5000 yen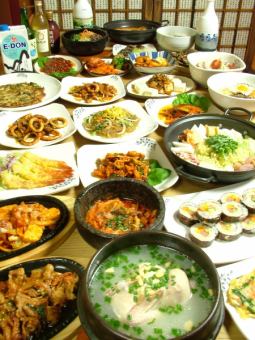 By using a coupon5000 Yen
tax included
All-you-can-drink available

All-you-can-drink all-you-can-eat is OK !! Loose 2.5 hours (last order 2 hours) Please ♪
Available days for reservation

Monday - Sunday - Public holidays - Holidays
We have a special plan for you! We offer a special plan! Loose 2.5 hours (last order 2 hours) All you can drink & 11 items are free! Enjoy delicious Korean food.All handmade ♪ All means stamina full of Korean food !! ※
Course menu
★ All you can eat free eating 11 items from the popular menu of multi-fame ★
1, Please taste the Korean cuisine which boasts all along first.
2, If you are missing please order from the menu below!
■ Korean fried noodles
■ Kimuchi Assortment
■ Multi-faced salad
■ Sea Fish
■ Chapche
■ TOPOKI
■ Korean style tofu steak
■ Bulgogi (special)
■ Tige (hotpot)
■ Stone-cooked bibimbap
■ Dessert
☆ All-you-can-drink products are available for plenty of 2.5 hours (last order 2 hours) as well!
Moreover, most of the shops are OK for drinks all-you-can!
★ Mom's casual hospitality is a heart-warming store ★
※ People, time, budget etc., please do not hesitate to consult.
If you have something weak, please contact us in advance.We will correspond as much as possible!
All-you-can-drink menu
·beer
· The premium malt (raw), bottle beer mortu
·sour
· Lemon sour, grapefruit sour, blue apple sour, giant peak sour, oolong high, green tea high, plum wine sour
·Cocktail
· Cassis grapefruit, cassis oolong, cassis orange, cassis soda, fuzzy navel, peach oolong, cassis milk, campari orange
·Cocktail
· Mango Yang Milk, Mango Yang Orange, Kalua Milk, Lychee Grape
·whiskey
· Horn balls
· Shochu
· Mairo (wheat), Mairo (potato)
· Shochu bottle
· Makgeol, Mogetsu, Chamisul, Jinro
·Soft drink
· Coke, Calpis, Ginger ale, Orange juice, Apple juice, Oolong tea, Green tea, Corn tea
2018/10/10 update