DETAIL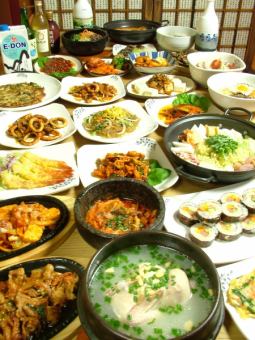 Volume ~ arm full marks banquet the !! 3 hours all you can drink and you change the free all-you-can-eat! All 11 dishes [馥] course 5000 yen
By using a coupon
5000 Yen
tax included
Please enjoy the super deals Korea banquet we offer How is it ?? special plan! Leisurely 3-hour all-you-can-drink & 11 dishes you instead are free !! delicious Korean food.By all means !! handmade ♪ stamina full marks Korean cuisine all ※
Menu

★ multi-馥 of popular menu 11 dishes our place free of all-you-can-eat ★

1, First of all, please taste the Korean food boast one way.

2, If you do enough please an order from the menu below !!

■ South Korea Grilled seaweed

■ Kimchi Assorted

■ multi-馥 salad

■ seafood pancake

■ JAPCHAE

■ Toppoki

■ Korean-style tofu steak

■ bulgogi (Four 4)

■ soup (pot)

■ Ishisho bibimbap

■ dessert

☆ you can drink is plenty of available 3 hours !!

In addition, most of the shops are all-you-can-drink OK !!

★ is a shop that is heartwarming casual hospitality of Mom ★

※ such as number of people, time, and budget, please do not hesitate to contact us.

Please contact us in advance if one is not good also.We will respond as much as possible!
Coupon that can be used
Volume - full banquet!
3 hours all you can drink and all-you-can-eat
All 11 items 【Gong) course 5000 yen

Presentation conditions

At the time of booking

Conditions of use

★ All-you-can-drink is mostly OK at the shop OK ★ 4 people ~ reservation required / can not be combined with other tickets / 1 pair / 1 card allowed

Expiration date

Until the end of March 2018

Book specified course for over 10 people
→ How much is free for one secretary !!

Presentation conditions

At the time of booking and when visiting

Conditions of use

10 people / over 1/1 pair / 1 Reservation / Samgyeopsal All you can eat 4500 yen course will be excluded.

Expiration date

Until the end of March 2018